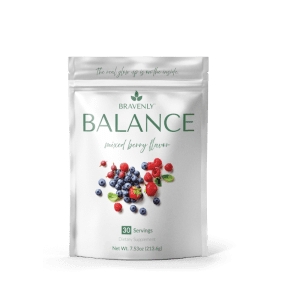 How much is it?
Balance retails at $99.99, our Ambassadors pay $89.99 + earn a $10 Product Credit. Then our Brand Partners pay $79.99.
What is it?
Bravenly Balance the ultimate 9-in-1 beverage with 50+ powerful body balancing ingredients that stimulate full-body detox, supports healthy immunity and digestion while boosting overall mood! You'll definitely want to take a look at all the powerful blends in this product.
What are the benefits?
– Optimizes metabolism
-Assists in weight loss
-Boosts mood
-Supports immunity & digestion
-Stimulates full-body detox
What are the Trust Symbols?
– No Soy
– No Gluten
– No Dairy
– Keto Friendly
– Cruelty Free
– Vegan
– Allergen Free
How is this different from other "greens" drinks on the market?
It is not JUST fruit & veggies, there are 9 blends in BALANCE. Most greens drinks focus mainly on fruit and veggie blends which make them "good", but when you're looking for a "best in class – all in one" kind of product you need much more than that.
What is the flavor?
Mixed berry, you will love it. It's super smooth and yummy!
How do you mix it?
Mix one scoop into desired amount of water, juice, or blend in a smoothie, or protein shake. It can also be enjoyed with yogurt.
Can you mix with other Bravenly products?

Yes, lots are of people mix it with Bravenly Rush, and some people even mix it with Gold.
Complementary Bravenly Products?
You will see Bravenly Balance woven into the routine of most Bravenly product users. When paired with Gold and Burn, it's a winning combo that we affectionately call our Body Balance Bundle.
Is it gritty?
No, not at all, it is a smooth greens drink. You will want to blend well.